Silly Scott
Children's Entertainer Portsmouth, Southampton, all of hampshire & surrounding area's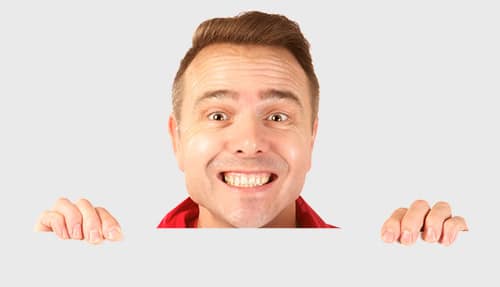 Everything you need to know about socially distanced garden parties for your child's birthday/family event.
Here you will find the answers to the most frequently asked questions, I have had regarding a socially distanced garden party.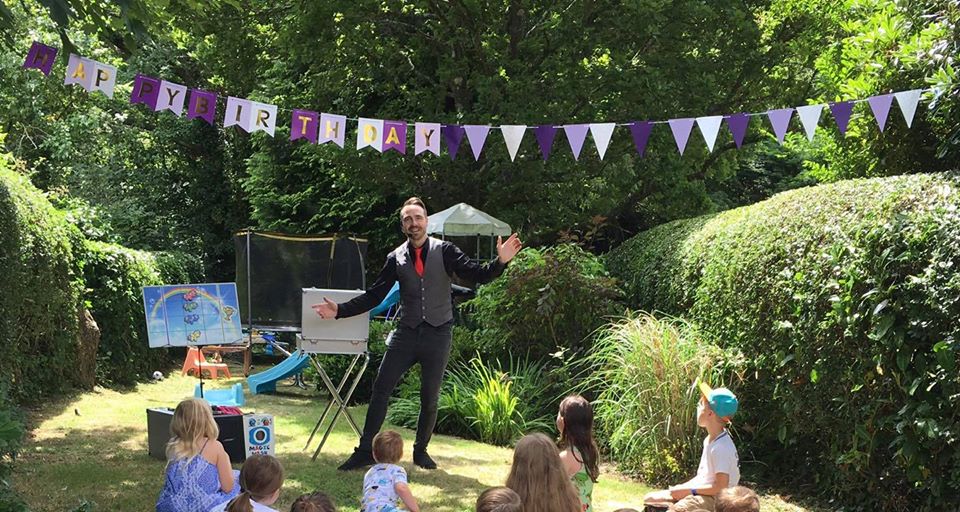 SO WHAT ARE THE CURRENT GOVERNMENT RESTRICTIONS & ROAD MAP?
Government guidelines say that we are allowed to meet socially in groups of  30 people outside and 6 people inside and as a trades person i am currently NOT included in this maximum number.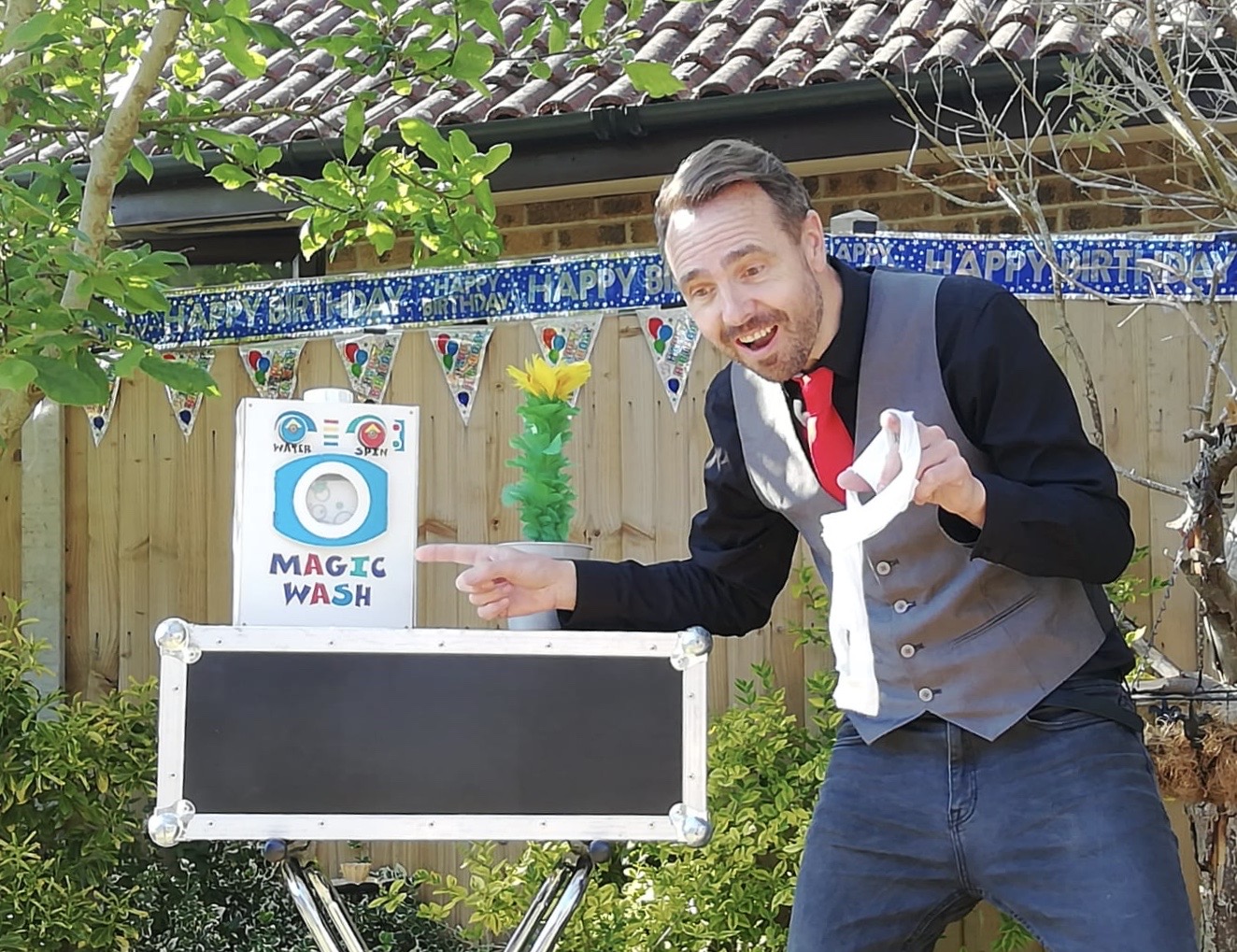 CAN YOU ONLY PERFORM IN THE GARDEN?
NO, if you have limited space in your garden i am happy to perform the show in a local park, school field, community centre/village hall garden or any other recreation area where permitted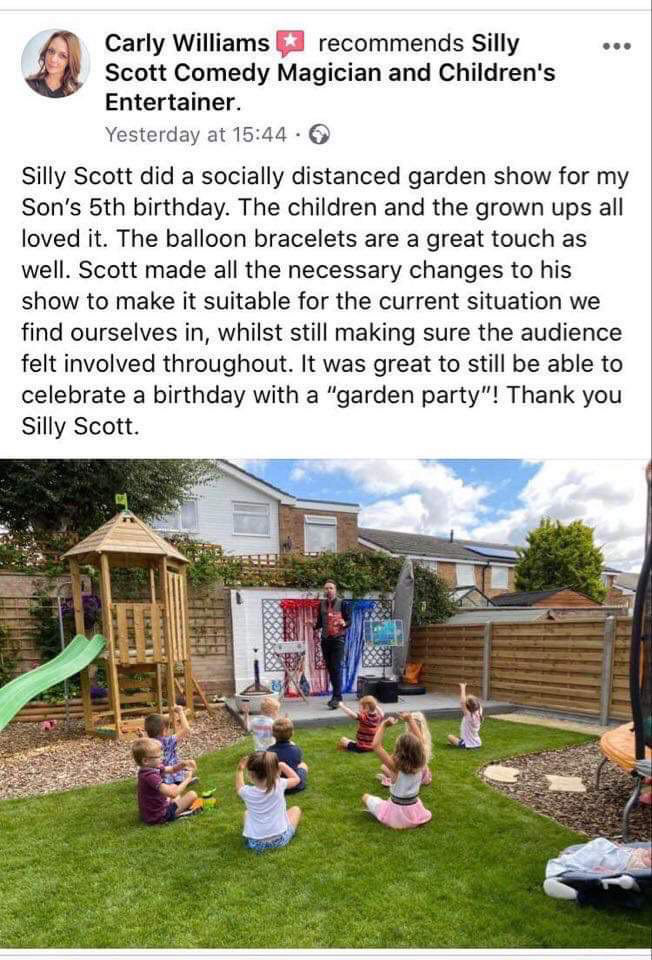 HOW SAFE IS THE SHOW?
Silly Scott has written the show entirely for this purpose. It's an entirely different show to what I would normally do in a traditional hall party. There is no physical helpers, however it is still FULLY INTERACTIVE and packed full with lots of interaction from the children/parents from where they are sitting at a safe distance. Silly Scott wears a face mask or face visor while loading in his equipment and setting up, uses hand sanitiser throughout the show and all equipment is completely sanitised between shows.
WE HAVE OLDER CHILDREN TOO WILL THEY ENJOY THE SHOW?
I realise that although it may be for the celebration of a younger child in your family, you may have older children or teenagers and of course you'll be watching with your children too. So with this in mind I have written a show which I think really is the encapsulation of family entertainment. The Magic is REALLY magical, the comedy is universal across the board and perfect for ALL AGES. It's important to me that you enjoy this as much as your child does.
WHAT PACKAGES DO YOU CURRENTLY OFFER?
The 45min family show is fully interactive, although I don't get any physical helpers up alongside me during the show, it is still FULLY INTERACTIVE with lots of laughs and lots of help from the children and parents at a safe social distance from where they are sitting. The birthday child receives a personalised Silly Scott birthday card and Silly Scott magic certificate.
The 1 hour show includes everything above in the 45min package + Silly Scott's 'You Can Do Magic Too DVD' & Silly Scott's Giant Octopus or Unicorn Race with the birthday boy or Girl winning a large octopus or unicorn balloon model, also every child gets to choose from one of Silly Scott's unique own balloon wrist creations: Turtle, Ladybird, Flower, Spider-man, Minion & Bumble Bee to take home.
The 1hr30mins package includes some fun non-elimination games like musical bumps, musical statues and my giant octopus or unicorn race game with Silly Scott stickers for everyone and lots of interactive dancing in between the games. Then there is a break for party food (food not included) and background music is played while the children eat and i then make every child one of my unique own balloon wrist creations: Turtle, Ladybird, Flower, Spider-man, Minion, Minecraft.
Second half of the party is my fully interactive multi award winning family magic show which is hugely entertaining for the children and grownups! The birthday child receives a personalised Silly Scott birthday card, Silly Scott magic certificate and Silly Scott's 'You Can Do Magic Too DVD'
No power is required, as all my outdoor equipment runs on battery.

OK, WHAT WILL YOU DO IN THE CASE OF IT RAINING?
Our Great British weather is obviously problematic, it's highly unpredictable. In the case of it raining we can do either one of two options.
We can re-schedule for another day.
 Ask family or friends to borrow a gazebo or two, as i fully recommend just incase it rains or for shade if its a hot sunny day!
As from 17th May 2021 inside gatherings are permitted for up to 6 people or from 21st June 2021 there should be NO restrictions on social distancing. So you could have it inside if need be.
HOW MUCH DOES IT COST?
This will obviously depend on your location due to travel time and fuel, and also the duration of the show you require, so please contact Silly Scott if you would like more information on availability, packages and prices i currently offer.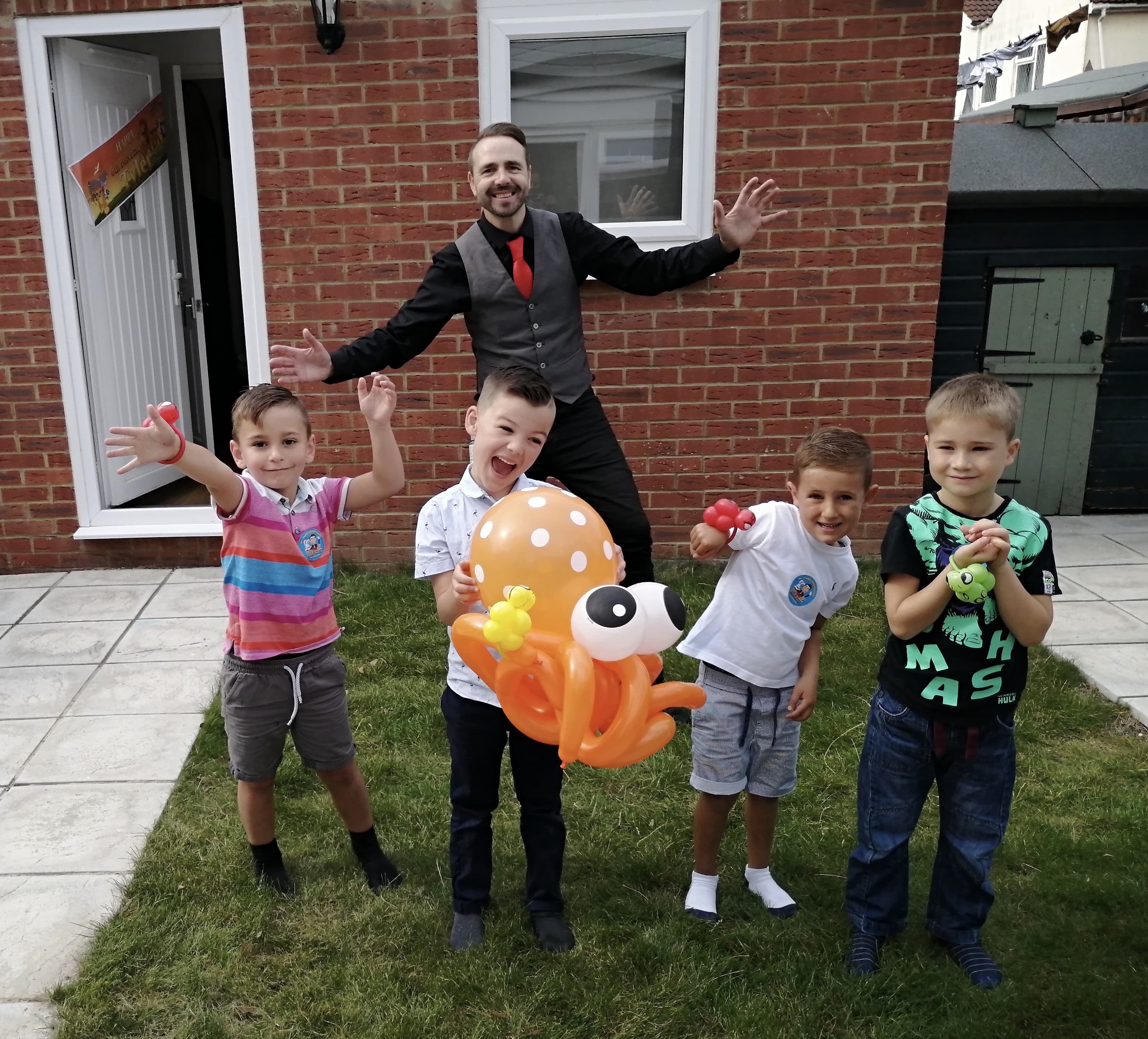 I STILL DON'T FEEL 100% COMFORTABLE WITH THIS, OR DON'T HAVE A GARDEN, BUT WOULD STILL LIKE TO CELEBRATE MY CHILD'S BIRTHDAY. WHAT CAN I DO?
I understand that not everyone will feel entirely comfortable with having a garden party yet. Covid-19 has affected everyone in different ways. I have been successfully running Zoom Parties throughout lockdown, and will continue to do so going for the forceable future . They have received rave reviews.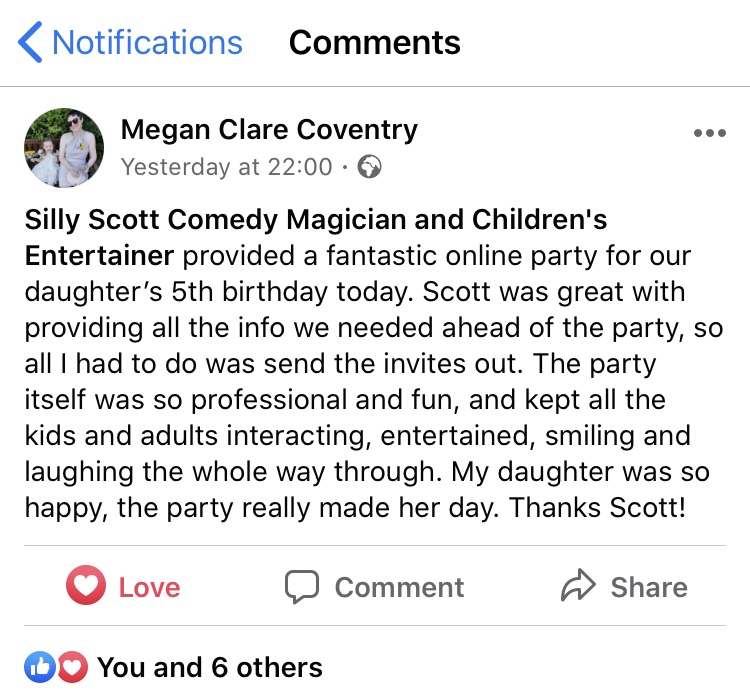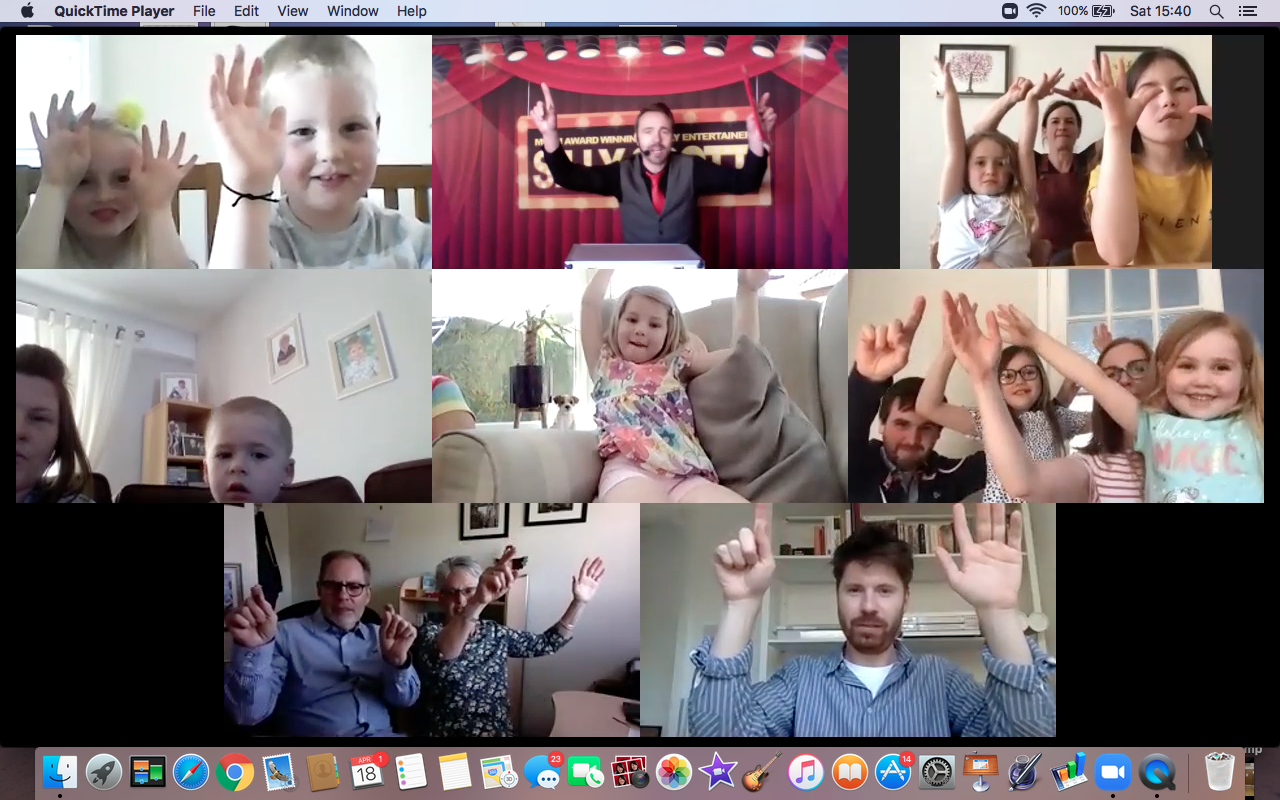 SO IF YOU ARE DOING ZOOM PARTIES WHY ARE YOU NOW DOING GARDEN PARTIES?
From a business point of view I have lost a lot due to the Covid-19 situation. It is important for me to keep my business alive and this seems like the most logical step for me. I want to carry on performing and providing parents with a safe and enjoyable party for their children, it gives me a lot of joy to provide smiles, giggles and magic. I realise it may not be for everyone, but for those who want the option I am proud to provide it safely and sensibly.
I hope this answers all your questions. Of course if you do have any other questions feel free to drop me an enquiry CLICK HERE and I am more than happy to go through anything with you.
Silly Scott x
fancy having a garden birthday party magic show?
.
"Silly Scott was absolutely amazing!! Very organised and made it a fun day for parents and kids. Everyone loved it and made it a virtually stress free party! Thanks so much. Will recommend you anytime!"
Yolande Birtwistle (Portsmouth)
How a virtual online party can still Make your little one's day extra special
The virtual online birthday party magic show is a fully interactive family magic show that is streamed live to you and all your party guests straight into the comfort of yours and everyone's own homes with up to 100 of your family and child's friends you wish to invite via the online video conferencing software Zoom. 100% fully safe with end to end encryption software and a secure unique one time randomly generated link and password for your event for everyone to log on and enjoy the celebration!
Silly Scott's magic studio set is VERY professional with a magical theatrical backdrop, soft box lighting, stage lighting, music and vocal microphone digitally wired straight into Mac for clear audio feed that makes the whole experience completely stress free and lots of interactive family fun for everyone.
Bronze Package - Includes a 30min Fully Interactive Birthday Show
Sliver Package - Includes a 45min Fully Interactive Birthday Show + Downloadable Video Recording Of The Whole Show & Time To Chat With Everyone After The Show.
Gold Package - Includes a 30min Fully Interactive Birthday Show, Then a 10min Break Followed by a 30min Interactive Magic Workshop (with downloadable tutorials of each of the tricks from the magic workshop)
The show starts with the Birthday Child helping magic a special personalised Silly Scott birthday card with their name custom printed inside on a birthday banner, the show also includes lots of interactive family magic with the birthday child and all their friends getting involved and helping Silly Scott with his magic tricks. The show also includes a BRILLIANT interactive game with ALL the children involved and lots of other magical surprises throughout the virtual party show.
The magic show climax is when the Birthday Child interactively helps Silly Scott magic his real bunny rabbit 'Sparkle' for all the children to see!
After the show Silly Scott will post the birthday child their personalised birthday card, a special personalised magic certificate, Silly Scott Magic Wand Tricks Pack & Silly Scott's 'You Can Do Magic Too' DVD staring Silly Scott himself and includes over 40mins of VERY easy fun magic tricks to make and learn, so they are able to perform their own magic show!
"The best virtual birthday celebration ever!"
Schedule date and time of show

Secure private unique link & password

Share link with all your party guests!

Fully interactive party and live show!

Up to a hundred people 

100% stress and hassle FREE!!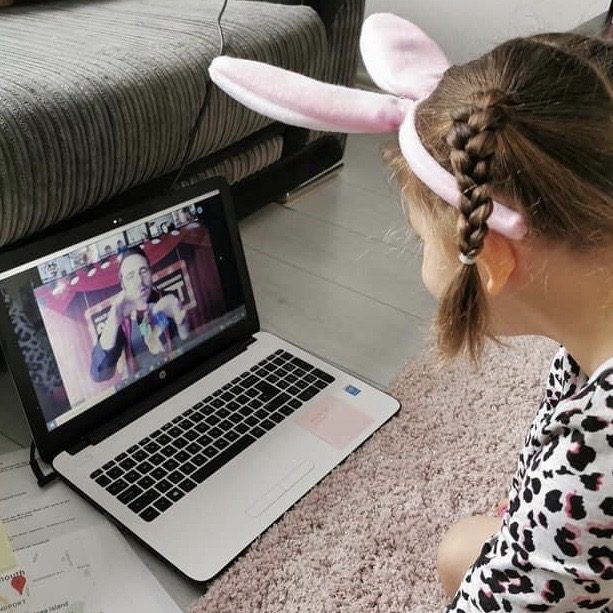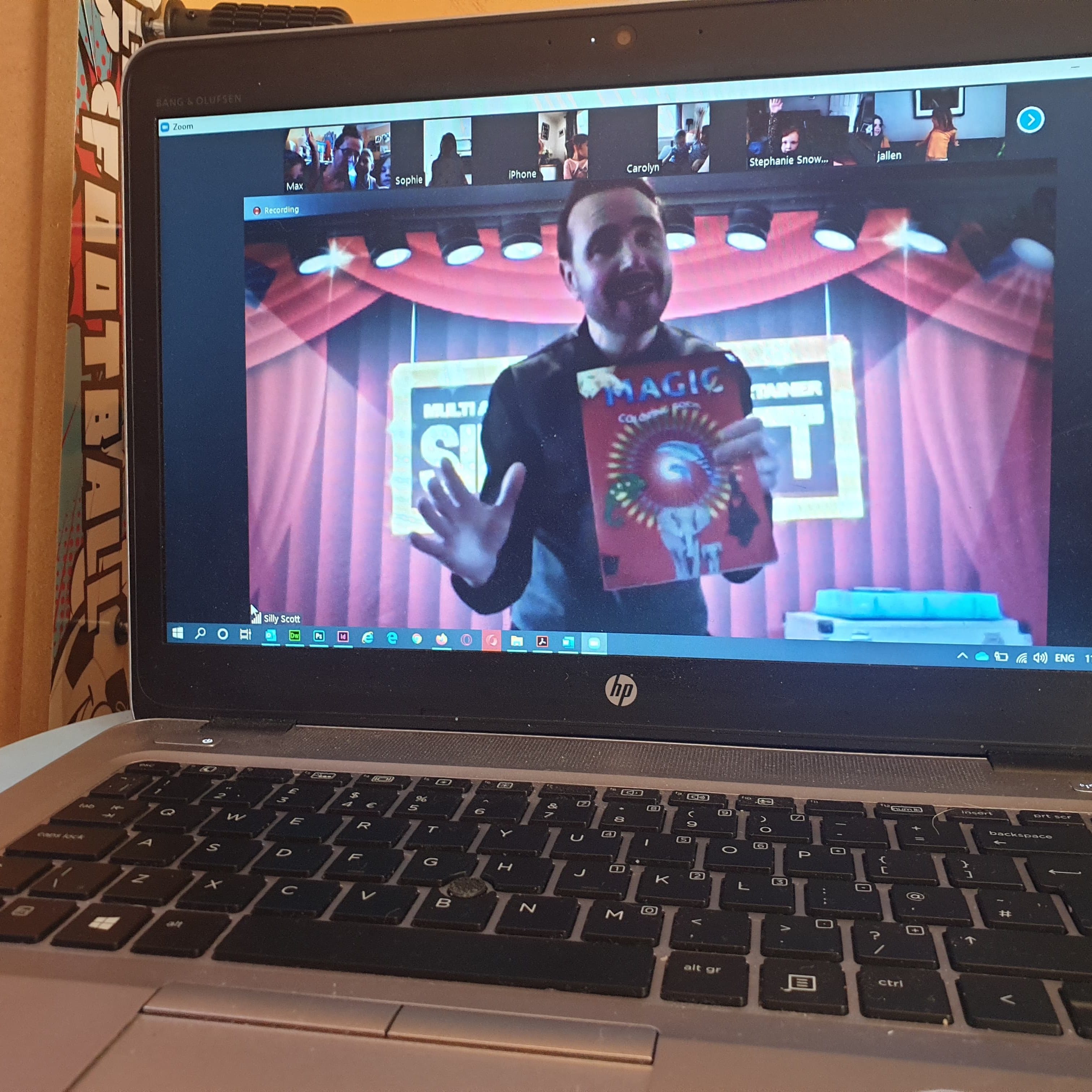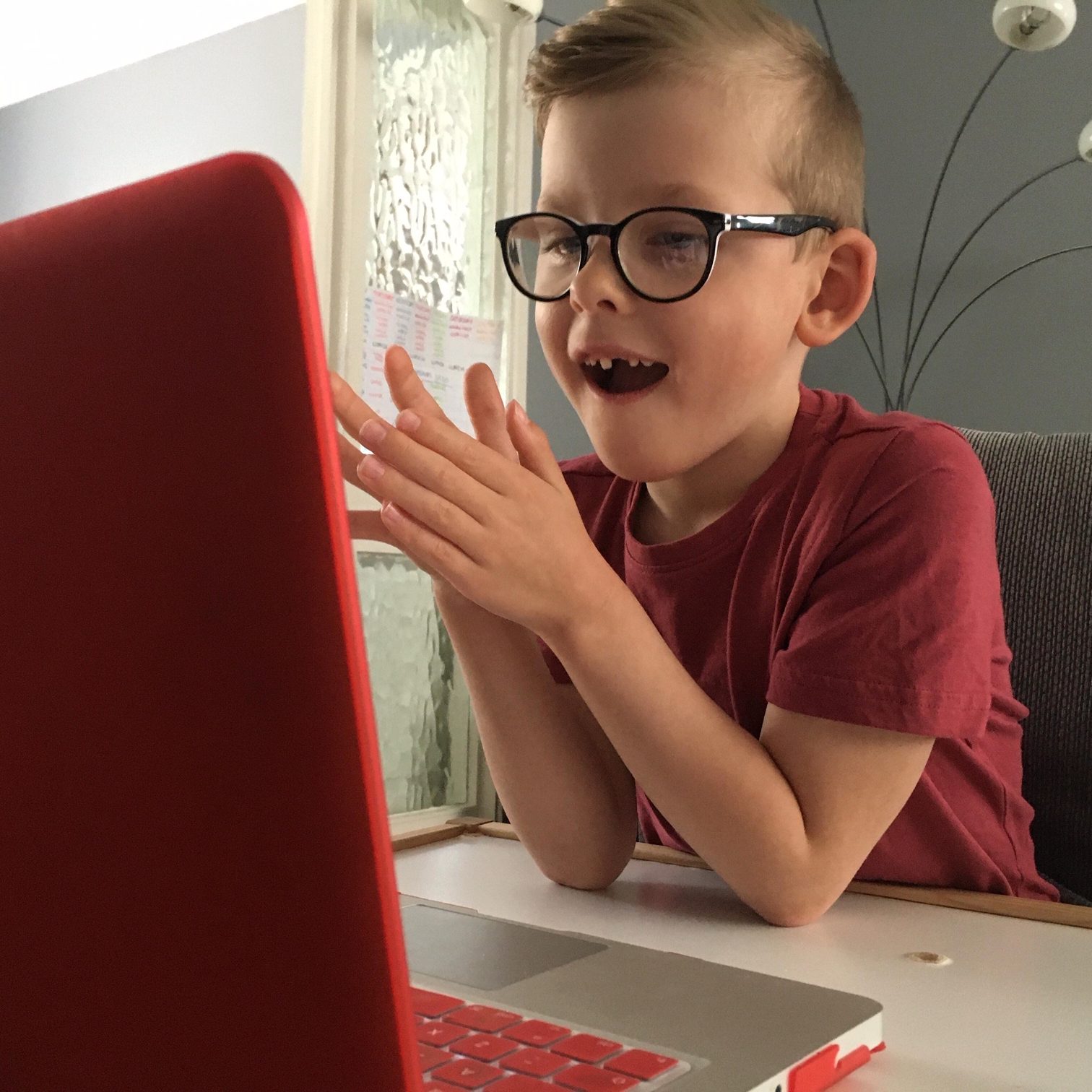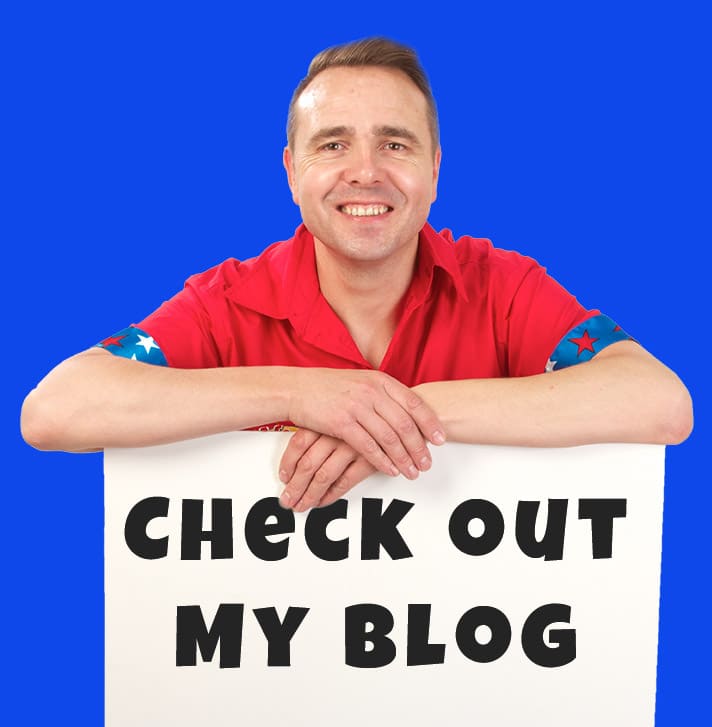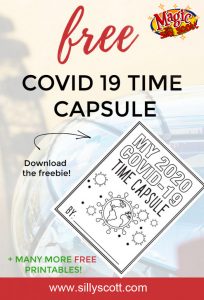 Free Covid-19 time capsule worksheets Click Here to download for FREE   Free Kids Activity Sheet Here is a fabulous idea, and concept for the kids to think about and then reflect on at a later date. There are 11 sheets within the workbook: A moment of history – record ...
I'm a Childrens Entertainer based in Portsmouth.
I cover all surrounding areas, here are some of the areas I cover